COMING OCTOBER 9, 2018
Chuckerman Makes a Movie
Thirty-five year old David Melman refuses to settle down. He uses his celebrity-branding business in New York City as an opportunity to date a bevy of twenty-something year-old pop-stars. But when his niece and nephew inform that he's hit "rock bottom" with his latest date he realizes that some personal change—and growing up—might be in order. So when his sister Marcy, with her own ulterior motive, pushes him to take a film-writing class taught by her friend Laurel—dubbed "The Mormon Rodeo" by David's brother-in-law—he agrees.
Laurel, in turn, pushes him to write a screenplay about the 1977 Cadillac he inherited from his grandfather and still drives, the relic of a pivotal Christmas vacation that ten-year-old David and his family spent in Miami Beach with his grandparents, Slip and Estelle, and dozens of other Jewish snow-birds. Unexpectedly, David finds himself falling for both the teacher and his script.
Will a visit down memory lane help David to finally grow up?
Will Laurel, a smart, sexy Mormon and David, a Jewish man-child, overcome their issues and find true love?
And will David's family ever shut up so that he can form a thought of his own?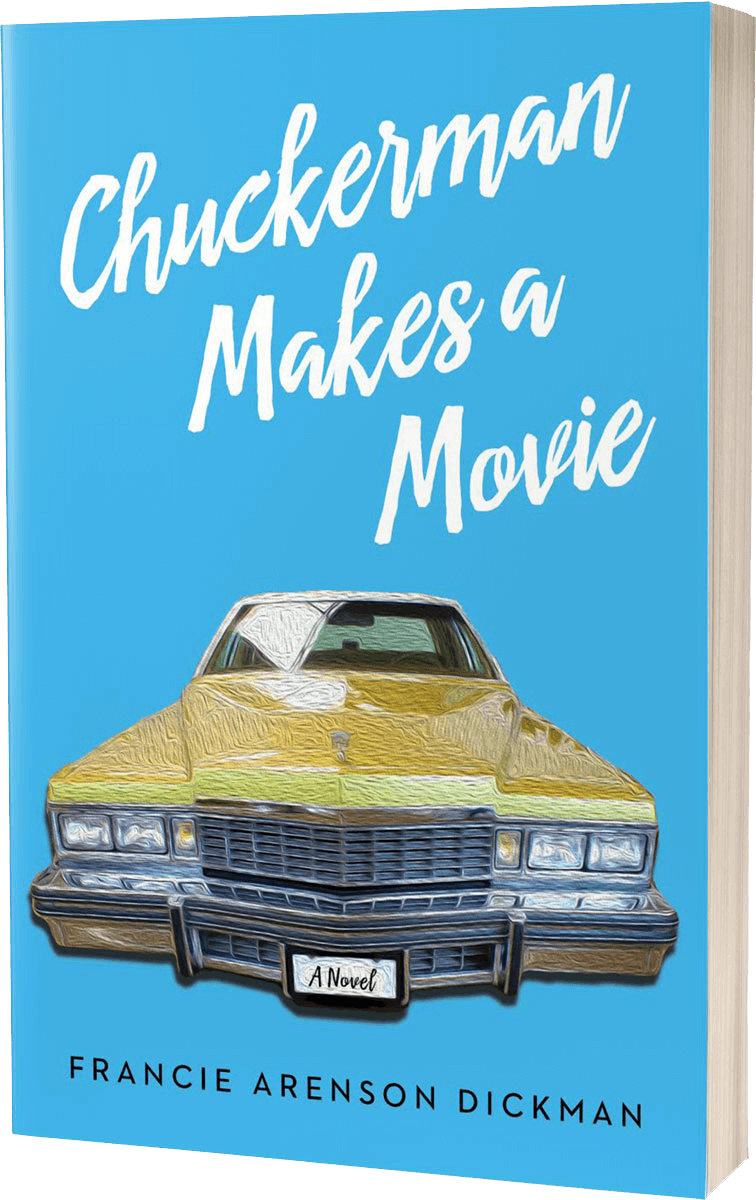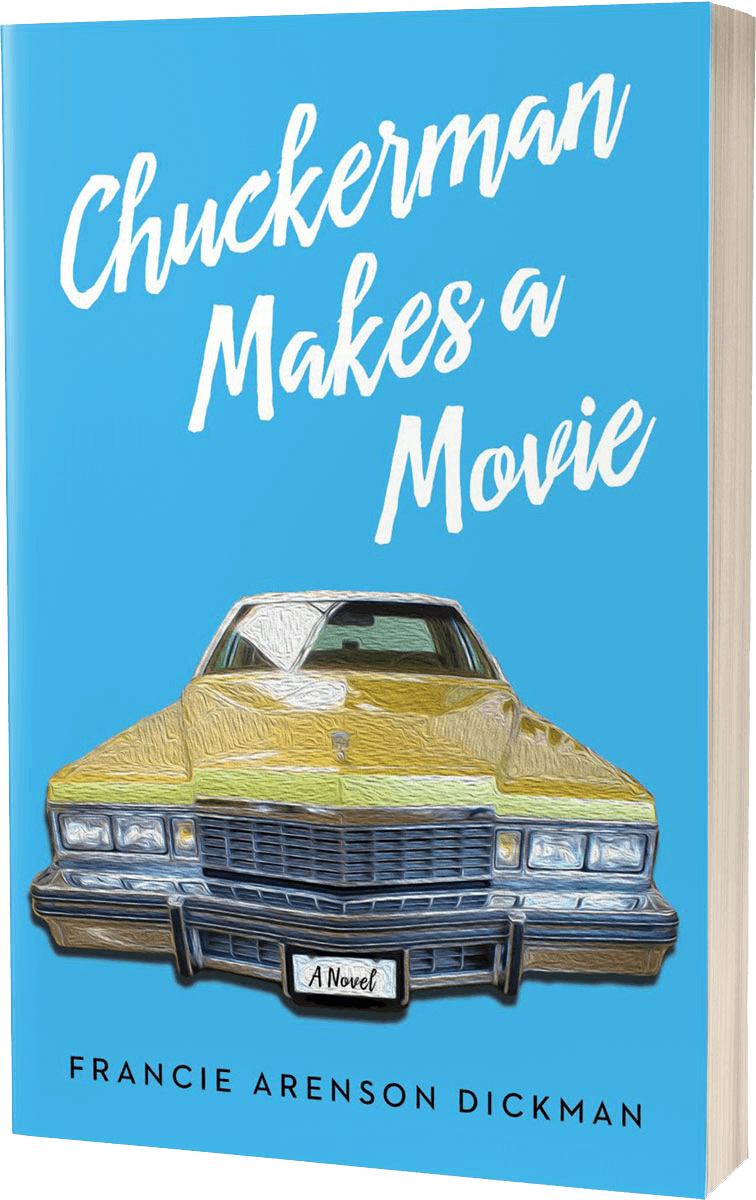 PRAISE FOR CHUCKERMAN MAKES A MOVIE
Dickman's debut novel is witty and observant throughout, and she packs her prose with sensory detail…A funny, romantic story about how "the road you think you're not taking can become the road you're actually on."
Francie Arenson Dickman's clever and entertaining Chuckerman Makes a Movie leads a floundering character to his aha moment. It is a story rooted in love, family connections, and comedic dysfunction.
The book's colorful character development, under the guise of a screenplay, makes for an entertaining and even touching read. Touching because you'll recognize some part of yourself between the pages, whether it's the 10-year-old hanging out at your grandpa's card game or the 30-something trying to make sense of love when you finally see it for the first time.
I enjoyed Francie Arenson Dickman's Chuckerman Makes a Movie immensely. Not only does Chuckerman (AKA David Melman) try and make a movie, he makes a book, a damn good one, funny, full of great energy, serious without, thank god, taking itself too seriously. And best of all it's chock full of family stories, the stories who make us who we are – whether we pull off the movie or not.
Francie Arenson Dickman's strikingly original debut novel, Chuckerman Makes a Movie, seamlessly glides between David Melman's past and present though a witty, nostalgic screenplay, a charming, thought-provoking love story, and a big, beautiful 1977 Cadillac.  The author's humorous and disarming storytelling will not only have readers immediately rooting for Melman as the protagonist of what is, at its core, a romantic comedy, but it will also offer them a fresh, funny, and sneakily allegorical take on the important relationship between interfaith dating and coming-of-age.  A fantastic read.
Dickman's first novel follows a flawed and funny protagonist through a series of false starts and farcical situations in the vein of Greg Olear, Matthew Norman, and Elisabeth Egan. Dickman uses David's script as a clever framing device, allowing readers glimpses into David's past, present, and imagined future. With snappy dialogue and a witty collection of characters, Dickman's debut is utterly enjoyable.
Her character development is wonderful, and there are some scenes within this novel that will make you laugh out loud; it's that funny. I also enjoyed how she paced her story, something that not too many authors seem to get exactly right, but Ms. Dickman has her finger on the pulse of what works and what does not. Her dialogue is spot-on as well. I could easily see this being made into a movie.
Chuckerman Makes a Movie is an endearing, comic novel full of love and family dysfunction. Its characters are so alive they might as well, for better or worse, be standing in your living room. By interweaving Chuckerman's screenplay with his life, Francie Arenson Dickman cleverly blends the past with the present and coming-of-age with romantic comedy. The result is a truly original debut novel—a story that is multi-layered, multi-generational and downright hysterical. You'll laugh, you'll cry, you'll never want to leave your front row seat as the delightful drama unfolds.
Thoughtfully narrated and with a split-screen storyline, Chuckerman Makes A Movie is a unique coming of age tale told through the lens of a film-writing class. Quick-paced, witty, and well-executed, Francie Arenson Dickman's debut novel weaves together a series of flawed and honest relationships, both past and present, with the kind of mastery one would expect from a seasoned best-selling author.
This highly entertaining debut novel is not only a charming romantic comedy but also an exercise in how to write a movie, an exuberant subplot embedded within the witty relationship between the two main characters.